Best Sellers

Lisa Kay London Shoes - Emmy In Navy Suede
£59.00
Was £85.00 - SALE £59.00
Elevate your summer style with a Lisa Kay London classic, the beautifully chic 'Emmy' wedge sandal (7cm height) in soft navy suede. Featuring an espadrille platform wedge, elegant peep-toe and gold buckle fastening, be summer-ready in 'Emmy'.
Style - Emmy
Colour - Navy
Uppers - Leather (Suede)
Lining - Leather
Sole - Man Made
Wedge Height - 7 cms
find out more

Lisa Kay Shoes - Eliza In Pewter
£84.00
The perfect wedge to elevate your style this summer, get the glamorous 'Eliza' wedge sandal in soft pewter leather. Adding a touch of glam glitz to your summer wardrobe, wear the elegant 'Eliza' day or night and feel fabulo.
Style - Eliza
Colour - Pewter
Uppers - Leather
Lining - Leather
Sole - Man Made
Wedge Height - 9 cms
Platform - 2 cms
find out more

Lisa Kay Shoes - Emmy - Lou In Black Suede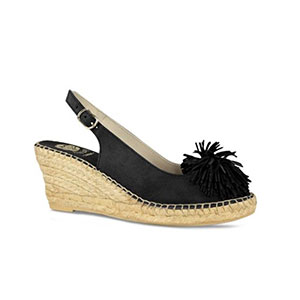 £45.00
Sale Was £89.99
Glamorous espadrille wedge sandals Emmy-Lou in black suede), with buckle fastening & comfort sole. This sandal is suitable for both day or night time wear.
Style - Emmy - Lou
Colour - Black Suede
Uppers - Leather
Lining - Leather / Textile
Sole - Other Materials
Wedge Height - 7 cms
Platform - 2 cms
find out more

About Us
This web site is owned and operated by Sues Shoes who are completely dedicated to your total satisfaction. If you have any suggestions or comments or if you need to contact us, please email us using the link on the store page or use the details below.

Our Contact details:
Sues Shoes
143 King Street Castle Douglas DG7 1DX United Kingdom
Phone: 01556 504477
Fax:
Email: sales [at] suesshoesandaccessories [dot] co [dot] uk
VAT Registration Number 762034354

Making A Purchase
Making a purchase could not be easier. Just browse our store, and add any items that you wish to buy into the shopping cart. After you have finished your selection, click on 'Checkout' and you will be asked for a few details that we need to be able to complete the order.

We accept card payments. If you are shopping from North America or anywhere else, place your order and your card company will convert the transaction to US Dollars or your own currency.

We accept Visa and MasterCard. We do not charge for any item until it is ready to ship. Backordered items are not charged until they are shipped. If you do not wish to pay online, you may send your card information via phone, fax or by post.

If you have made a mistake in your order and cannot correct it in the shopping cart, contact us and we will correct the mistake.

When confirmation of your order is received, this is to indicate that we have received your order. It does not indicate that a contract exists between us. We will indicate acceptance of your order, and hence a contract between us, when we send you an invoice. We have included this term to protect us in the case that a mistake has been made in pricing, we have inadvertently under-priced goods, or we are no longer able to supply a particular product for some reason. In the case of a change of price, we will always contact you first to ensure that the price is acceptable.
Shipping And Handling
Our shipping costs are £3.00 on all items to all UK customers. We aim to to despatch within 24 hours (excluding weekends), on a next day signed for service. On any overseas orders, shipping rates will be calculated and advised before shipping, once agreed on.
Delivery Schedule
We will normally send your order to you within 2 business days. International orders are dependent on agreed shipping method.

You must inform us within two working days if the goods are lost or damaged in transit so that we can make a prompt claim against the delivery company and correct the problem. Please quote your order number in all correspondence.

You agree that proof of delivery supplied by our delivery company is sufficient evidence to establish that goods have been received.
Back Orders
If your item is not in stock, we will back order for you. You will always be emailed with the option to cancel your order if you would rather not wait.
Tax Charges
For orders made from the UK or the European Union, 20% VAT is included. All other orders are VAT free.
Credit Card Security
Actinic Payments is powered by the CreditCall payment infrastructure, arguably the most robust and reliable in the industry, with 100% up time since 2005. The service enables small and medium businesses to meet the latest banking security standards. It offers full Payment Card Industry Data Security Standard (PCI DSS) Level 1 certification, across the board 3D-Secure compatibility and integration with all major banks
Guarantee
- RETURNS - If you are not completely happy with your purchase you can return it within 14 days of purchase, in it's original packaging, unworn and with labels still attached, once we are satisfied of their condition a refund will be made. This will not include return postage costs. Please ensure your name and address is clearly marked on all correspondence along with any exchange details. Postage will be charged on any exchange items.

Goods returned to us which have clearly been worn or damaged in transit due to bad packaging will be returned to you unrefunded.

Please note unless the description states otherwise our shoes are not waterproof, this is not a manufacturing fault.

We strongly advise that you obtain proof of postage for your returns as we cannot be liable for any goods lost in transit.
Reaching Us
If you need to reach us, please email us using the link on the store page, alternatively, you can call on 01556 504477 (International +44 01556 504477) or write to us at 143 King Street Castle Douglas DG7 1DX United Kingdom
Privacy Policy
Sues Shoes do not disclose buyers' information to third parties other than when order details are processed as part of the order fulfilment. In this case, the third party will not disclose any of the details to any other third party.
Our data collection and storage is governed by the rules of the UK data protection act and associated legislation.

Cookies are used on this shopping site to keep track of the contents of your shopping cart, to store delivery addresses if the address book is used and to store your details if you select the 'Remember Me' Option. They are also used after you have logged on as part of that process. You can turn off cookies within your browser by going to 'Tools | Internet Options | Privacy' (in Internet Explorer) and selecting to block cookies. If you turn off cookies, you will be unable to place orders or benefit from the other features that use cookies. Data collected by this site is used to:
a. Take and fulfil customer orders.
b. Administer and enhance the site and service.
c. Only disclose information to third-parties for goods delivery purposes.